Bold and striking hues break out into a monotonous landscape in BUBBLY // BLOSSOM.
We focus on the brightest of the brightest colors that you usually find on prestigious catwalks and in art-interior design stores.
Everything starts with fresh or flowers in bright pink and raspberry pink colors. They are the heart of this theme and guarantee a modern and futuristic design.
We apply within BUBBLY // BLOSSOM a minimalist style in terms of accessories, small accentssuch ascolored feathers can however be used within the theme.
We stick to traditional vases and pots and let the colors of the flowers and plants speak for themselves. Wavy lines in combination with round shapes of fresh flowers create the atmosphere here.
This sparkling spring theme lends itself perfectly to Mother's Day creations.
Metallic silver effects are found in bold fashion designs and in the next-gen architecture. Accessories in silver metal or crystal accompany the future amongst these creations.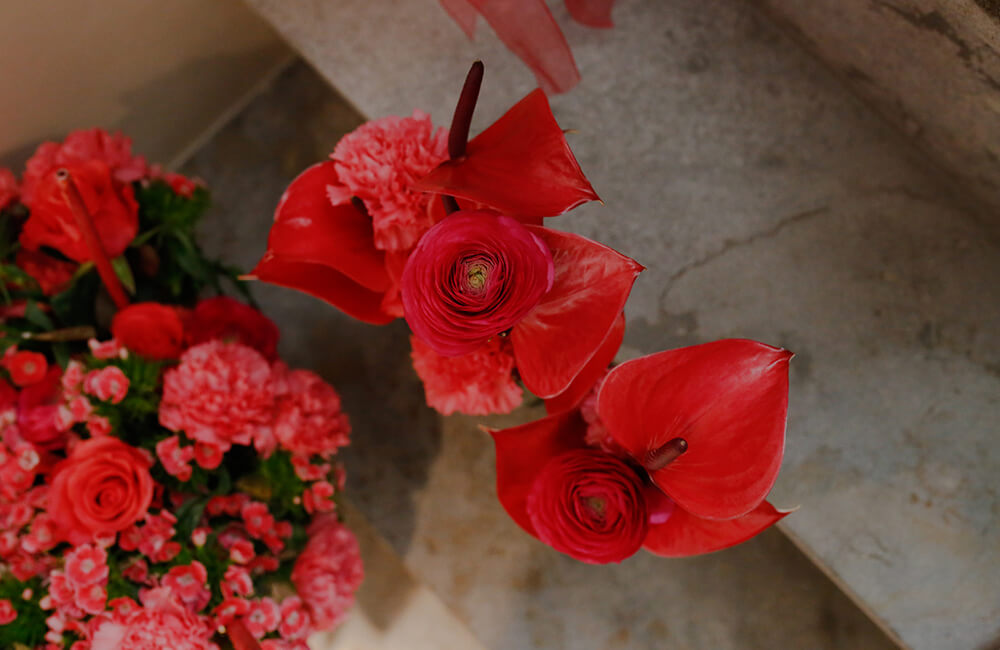 The combination of fresh flowers and freeze-dried flowers sing in harmony.
Pink peonies play with contrast when displayed in an industrial-looking, metallic gray pot.
Limit the pastel colors this time. Give attention to the naturally vivacious colors with the most saturated spectrum of pinks and reds.
The bubblegum-pink is indispensable in any creation and gives a striking effect to the whole.
Add magnificent scents from the Lily of the Valley flowers to complete your floral scene.
A set of mini glass vases on a display table in glossy wood welcomes with open arms a selection of our most beautiful fresh Lily of the Valley.
Small glowing lights brighten the atmosphere and further accentuate the pampas, ferns and feathers.
Traditional pots and vases are preferred. Stone or marble setting is an excellent background if you are looking for contrast.
A green oasis, gracefully presented in a milky white ceramic vase, houses a succession of pink peonies.