2021 is a special year for the entire Agora family. This year, we are honored to be celebrating 40 years of engaging and sharing with you our passion for flowers, plants and accessories.
For this summer season we are celebrating the 90's of Agora. Here are our 90's inspired creations!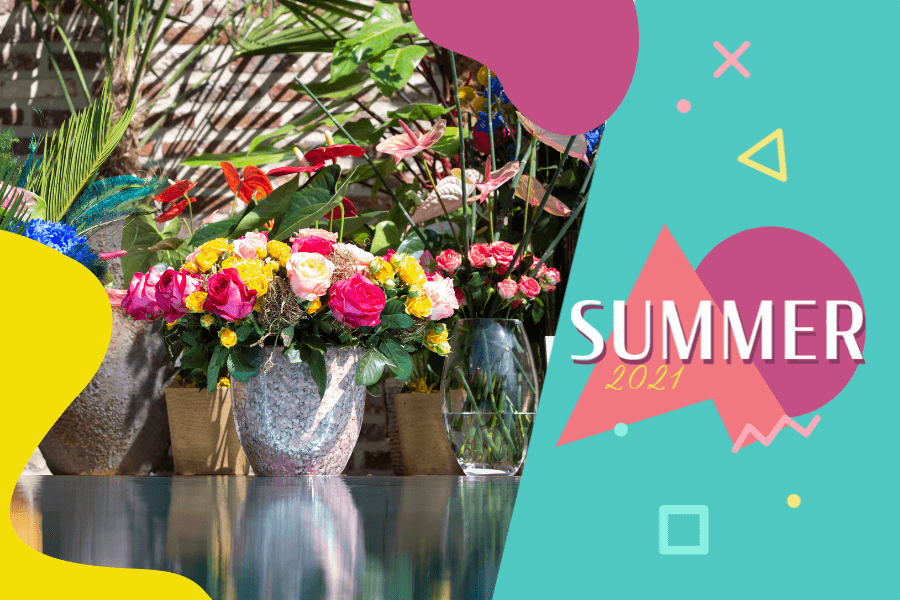 Barcelona is a vibrant city in full bloom, just like this beautiful bouquet that consists of a stitching of soft pink, yellow and fuchsia colored roses.
A gold thread is woven throughout as an accent touch. The creation comes to rest in a glossy, patterned pot.
Between a few stems of green reeds, Anthuriums glazed in pink parked their stems in freshwater of a translucent oval vase.
Their gaze turns downward, where a floral carpet of red roses catches their attention.
A hot summer day in the 90s.
A round dried cardi bouquet is sunbathing on a soft yellow fleece blanket. To give him some coolness, accessories of artificial ice cream cones were added.
A festive insert in which white and pink are the primary colors.
A woven basket in white-painted wood houses a white-pink composition of gerberas and japanese lilies. On this picnic you just want to be a guest.
A true spectacle of white, yellow and green tones.
Fresh white avalanche roses, yellow gerberas and Freesia are delighted to meet in a round, wide pot in soft green hue.
The tall white delphinium in this fresh composition spring from a source of round soft green ceramic. At their base, they are in the company of yellow gerberas and white avalanche roses.
Set against a gray or wooden background, this composition comes into its own.
This dried bouquet in various shades of purple displays timeless elegance.
Beautiful dried cardi, phalaris and flax are interconnected and form a whole wrapped in delicate purple ribbon.
Pure delight for the abstract creative: this blue styrofoam flower shape is edged with purple fabric and complemented by smaller, overlapping artificial flowers in pink, purple and blue.
Reminiscent of the 90's youth, Gerberas capture the attention in the foreground of this eye-catching construction.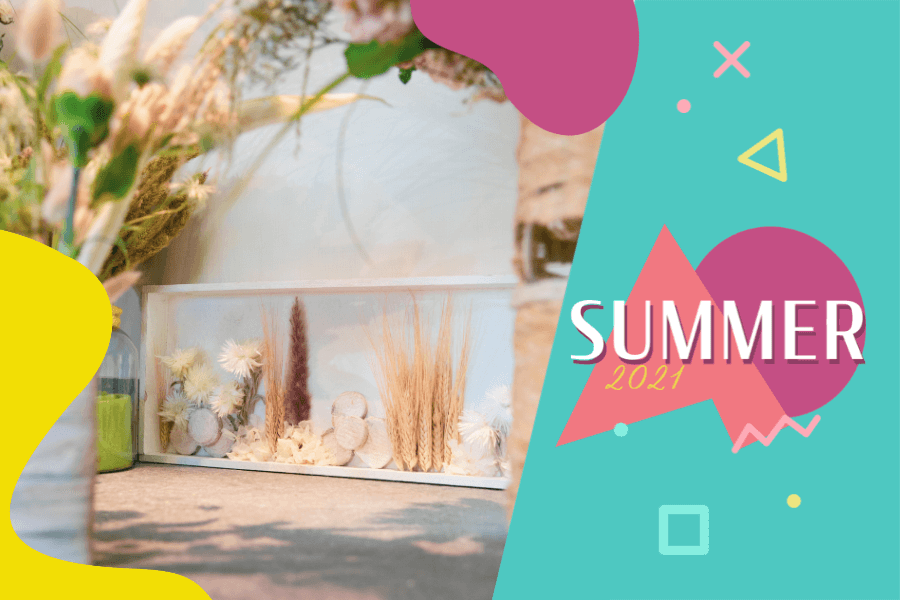 A white canvas with a portrait of dried, muted elements where nature was the painter.
Dry grain, accessories of wooden tree sheaves, white thistle-like flowers, dark pampas and dry white flowers mimic the atmosphere of the French countryside.
A carpet of white gypsophila flowers provides an ideal resting place for a circle of soft orange avalanche roses with an interior of white chrysanthemums.
At the center of all this is a core of carnations. The convex white pot that houses the creation bring about a humble presence.