Blossom in love. This season, POUSSES // D'AMOUR opens to us the doors of love and affection.
Welcome the new year with our ultra-romantic Valentine's theme! Trending creations in pinks, rouges and whites are gathered in this lookbook where romance and dream meet. Be inspired by the symphonies of the enchanting Monstera, the soft touch of blue orchids and the beguiling charm of the undying roses.
Bloom in love with POUSSES // D'AMOUR!
When love calls, we hearken! When the hues of the Celosia and the Golden palms radiate, we pay attention! When orchids reveal their love dimensions in colors of light brown, white and purple, we notice! And we say to a loved one, "I love you".
This theme is all about creating connection, with love's signature colors like red and pink with white undertones. Show the endless power of love with voluminous flowers!
Enter Belle d'Avalane roses and peonies. These luxury flower gifts with incredible colors will simply wow you! Belle d'Avalanes unique freeze drying process makes their creations as close as you can get to eternal love!
Can you feel the flutters? It's like walking into a field full of butterflies… The combination of orange and pink gerbera with bright blue orchids express the idea of a vibrant love.
Celebrate love with beautiful creations, florals and plants for Valentine's Day. Create your own sense of 'amour' with our amazing products, carefully selected for your craftsmanship.
Bring your creations to life with bright ceramics in shades of orange to complement the vibrant colors in this Valentine's theme!
Use flowing glass vases that reflect the beauty of love and rigged vases with vintage elements to add a unique touch that will be remembered.
The exotic broad leaves of the crystallinum announce its presence as a love song, tapping in soft colors of green and cream, mixed with the pinks and whites of the elegant ranunculus. They are housed in a stylish glass vase, and exude a heart-warming romance.
Draw inspiration from the bright-colored anthurium with leaves of the famous monstera variegata – unique spectacle that feels like that of a one true love!
Add the Monstera in your creations to express the uniqueness and rarity of a blossoming love.
Give your creations a wild touch and give them the space to showcase their beauty.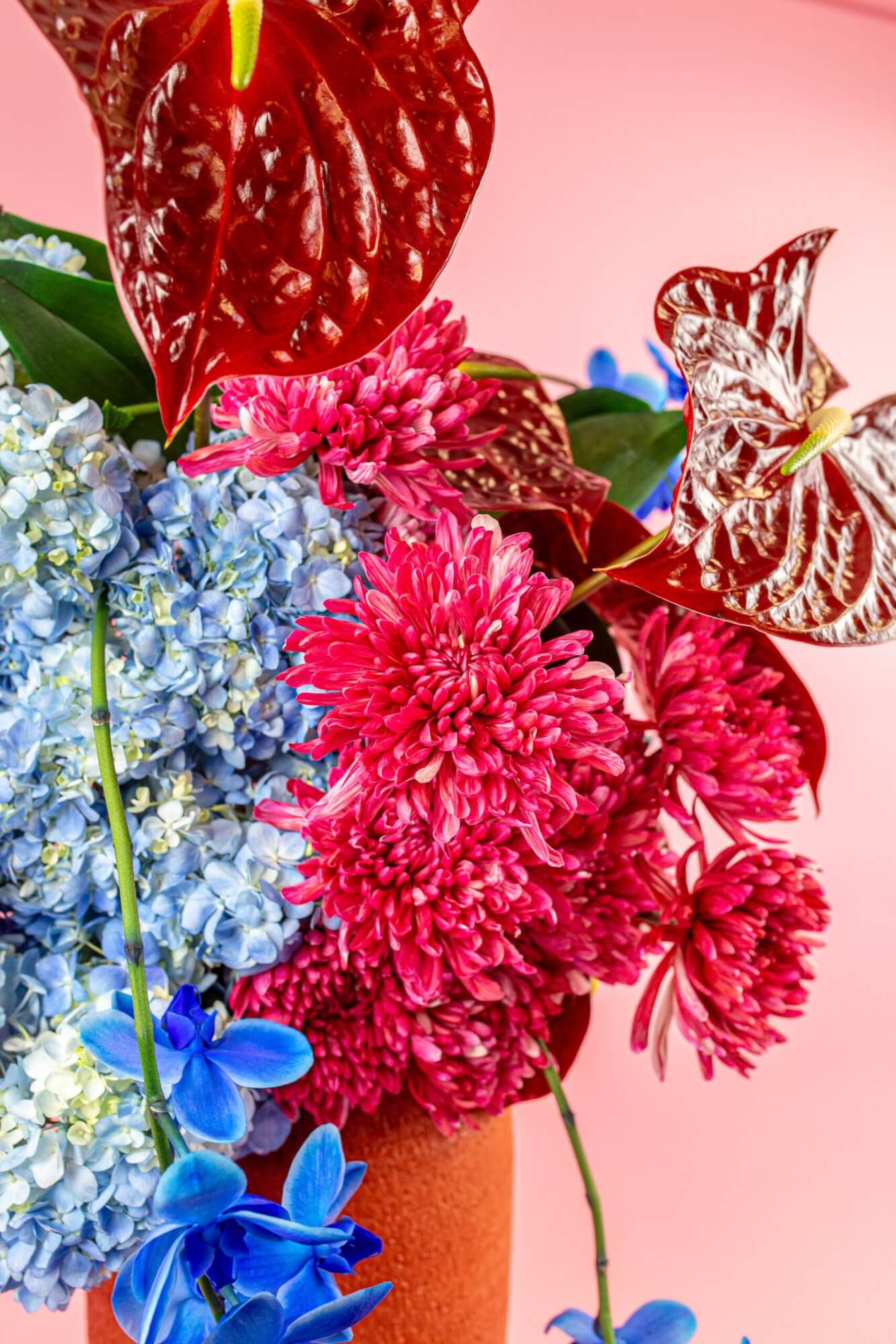 Combine the burgundy camellia, the blue orchids, and the Chrysanthemums for a stunning floral arrangement. They are a great addition to a love story. Take a moment to experience the pleasantries they bring to the soul.
With the burgundy Camellia, reddish dried Roses, and the Brachychiton, you can recreate and showcase love this season.
Feel the love blossoming with POUSSES // D'AMOUR!