CHROMATIC // DREAMS
Dream in colors in CHROMATIC // DREAMS.
CHROMATIC // DREAMS is a derivative from the last season's theme (GALACTIC // GARDEN) but a down-to-earth and raw version, reflecting on technology and future with chromatic colors.
Spring is nearing, and it's time to play with minimalistic and elongated bouquets.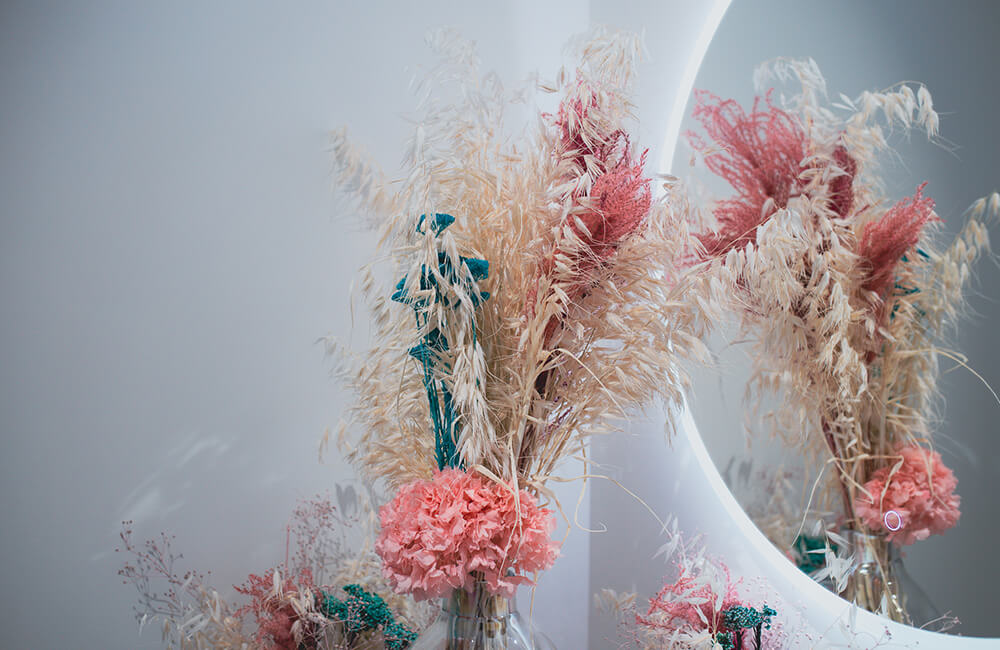 Gone with the icy wind and circular forms, draw in abstract lines, characterized by inconsistencies. Like a dream, perspective and consciousness give away to exciting and illusory views, making CHROMATIC // DREAMS a very playful theme.
Explore shapes in construction of fresh cut flowers and dried flowers; mold them into exaggerated vases and accessories. Abstract shapes are a part of Agora's winter accessories collection this season, and they're sure to make many creations a dream come true.
A utopian world of CHROMATIC // DREAMS.
This theme arises from the reflecting colors of melting ice as the sunlight breaks through the cold. Think of translucent and crystalline colors swirls of silver, pink, and purple merge and interrupt the frost of winter to spring.
Now, off to dreamland…
As for styling, opt bouquets and creations that are unconventional and out of balance. An assembly of "U" shaped bouquets, elongated on one side and shorter on the other, throwing off tradition and creating imbalance and imagination.
Add modern, minimal flowers in bouquets with height and those with slight curvatures to make a dreamy setting.
Soft colors of blue delphiniums and small pink carnations complement the theme with a sweet touch.
Create an abundant effect with large white vases and baskets full of pink poinsettias next to large purple Brassica bouquet, wrapped in pink textile for a soft touch.
Sweet dreams.