Gedurfde en opvallende tinten die in een monotoon landschap uitbreken, dat is helemaal waar BUBBLY // BLOSSOM voor staat.
We focussen op de meest felle en heldere kleuren die je doorgaans terugvindt op prestigieuze catwalks en in de hipste interieurzaken.
Alles begint met verse of gevriesdroogde bloemen in felroze en framboosroze kleuren. Zij zijn het hart van dit thema en garanderen een modern en futuristisch design.
We hanteren binnen BUBBLY // BLOSSOM een minimalistische stijl op het gebied van accessoires, kleine accenten van bv. gekleurde veren kunnen bovendien wel binnen het thema.
We houden vast aan traditionele vazen en potten en laten de kleuren van de bloemen en planten voor zich spreken. Golvende lijnen doorheen het geheel, in samenspel met de ronde vormen van de verse bloemen, scheppen hier de sfeer.
Dit sprankelende lentethema leent zich uitstekend voor Moederdagcreaties.
Metaalzilveren effecten vinden we terug in gewaagde modeontwerpen en in futuristische architectuur. Accessoires in zilvermetaal of kristal sluiten erg goed aan bij deze creaties.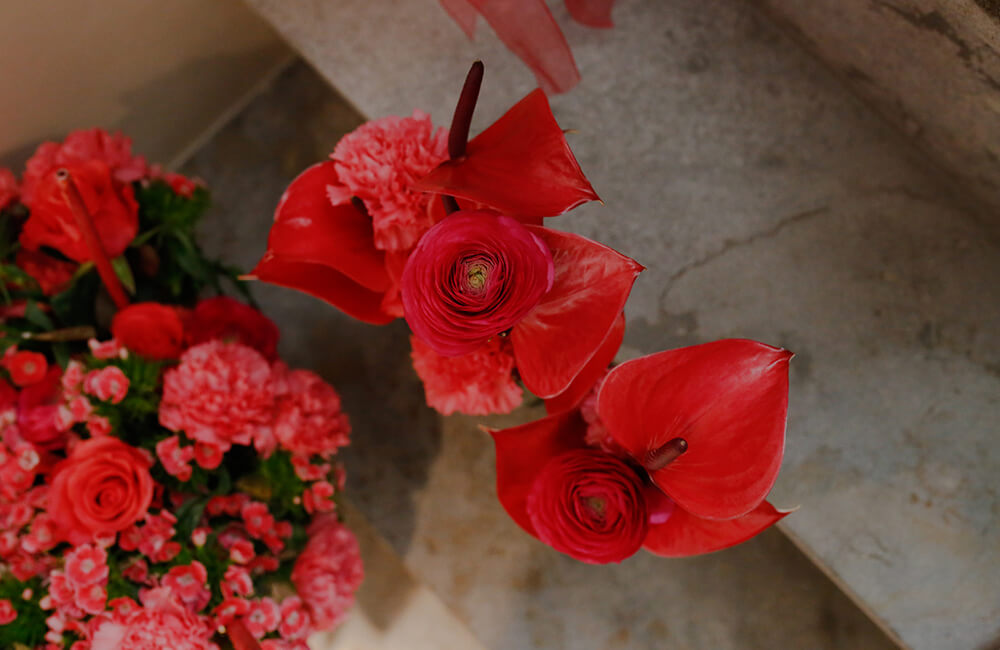 De combinatie van verse bloemen en gevriesdroogde bloemen zingt in harmonie.
Roze pioenrozen spelen met contrast wanneer ze in een industrieel ogende, metallic grijze pot worden tentoongesteld.
Geen pastelkleuren deze keer. Geef aandacht aan de meest levendige kleuren, doordrongen van roze en rood.
De kleur bubbelgum-roze is onmisbaar in iedere creatie en geeft een opvallend effect aan het geheel.
Voeg magnifieke geuren van meiklokjes toe om je bloemenscène compleet te maken.
Een set glazen minivaasjes op een etaleertafel in glanshout ontvangt met open armen een selectie van onze mooiste verse meiklokjes.
Kleine gloeilampjes verlichten de sfeer en accentueren de pampas, varens en veren.
Traditionele potten en vazen hebben de voorkeur. Een stenen of marmeren achtergrond is uitstekend als je op zoek bent naar contrast.
Een groene oase, sierlijk gepresenteerd in een melkwitte keramiekvaas, herbergt een aaneenschakeling van roze pioenrozen.