Als je het over lentefris hebt, dan gaat het ongetwijfeld over PASTEL // PEDALS.
Dit thema is een ode aan de levendige kleuren en jeugdige tinten die de lentepracht met zich meebrengt, met een kleine knipoog naar de mode-industrie.
Zachte pastelkleuren zoals pastelroze, zachtgeel, matblauw, matgroen en lavendel zijn dominant in deze creaties en geven het geheel een fleurige uitstraling.
PASTEL // PEDALS is bovendien een uitstekend thema om inspiratie op te doen voor je paascreaties. De creaties laten zich het best gelden in een zachtverlichte ruimte waar het contrast extra in het oog springt.
In het oog springen door subtiliteit is hier de insteek.
Pastelpaarse en lichtroze linten geven een frisse toets en scheppen een gemoedelijke sfeer.
Creativiteit in accessoires is onbeperkt. Glazen vaas, kleien pot of zilveren theepot? De keuze is volledig aan jou.
Een bleek marmermotief of pastelkleurig bloemenmotief leent zich uitstekend om de creaties op te etaleren.
Paarse hyacinten verschuilen zich op de achtergrond terwijl een gevarieerde rozenpracht zich meester maakt.
Een minimalistisch gebruik van groen plaatst de levendigheid van de andere kleuren op de voorgrond.
Laat paasbloemen je composities vergezellen voor een extra vleugje lentegevoel.
Gebruik dansende rozenblaadjes in de mooiste pastelkleuren om een kalmerend effect te creëren.
Vermijd goudkleuren en harde lijnen in het ontwerp. Als extra eyecatcher kan je zilvertinten gebruiken.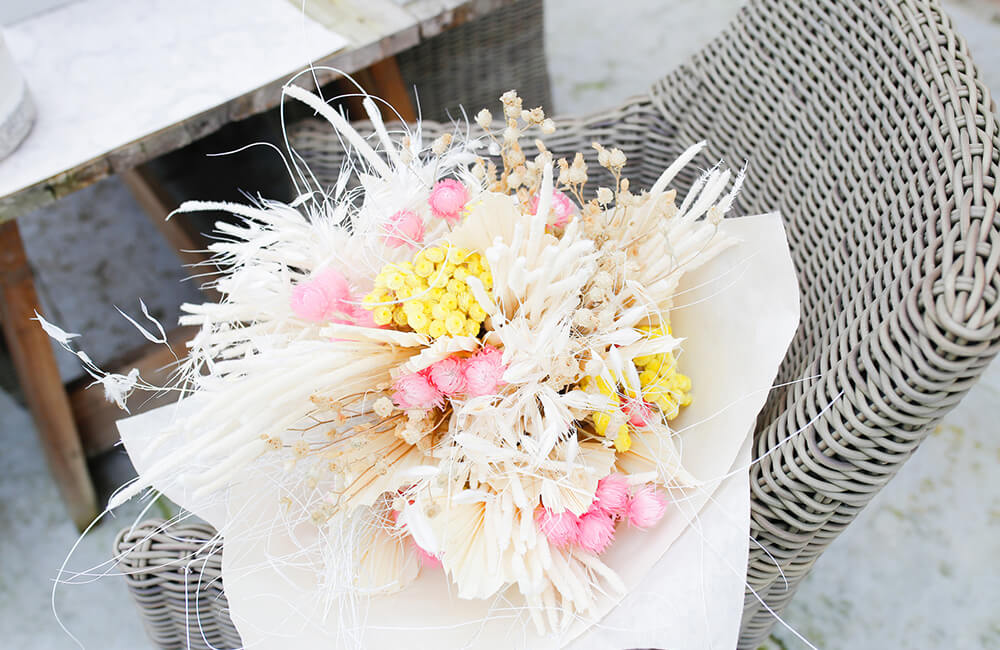 Verse bloemen, gevriesdroogde bloemen of een combinatie van allebei – voor elk wat wils.
Deze creaties geven je een gevoel van tijdloze klasse en eindeloze jeugdigheid.