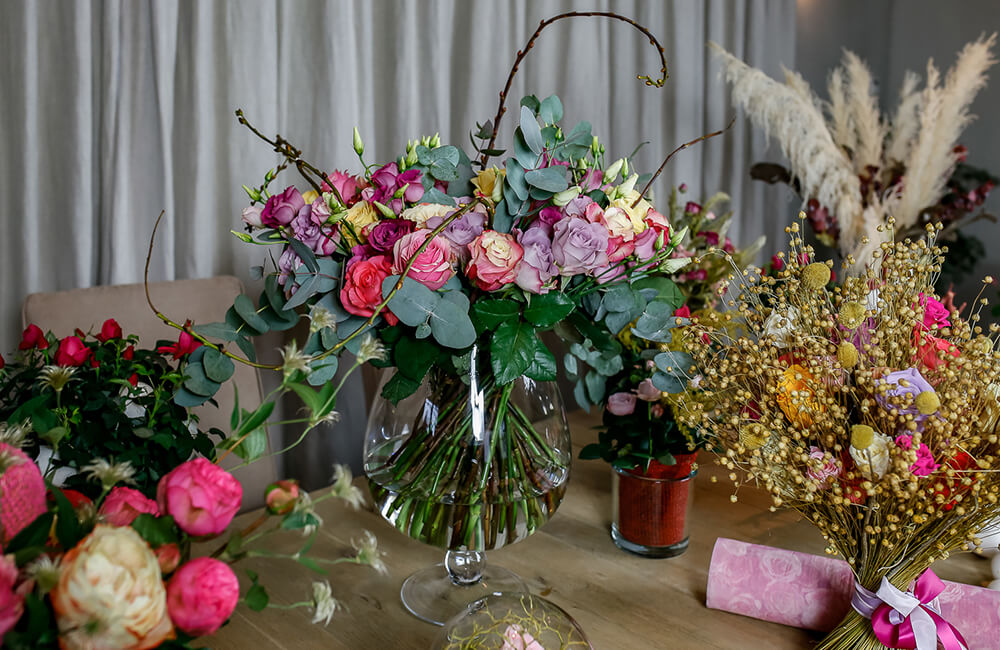 De naam ROSY // RADIANCE verklapt het al: rozenliefhebbers en romantici kunnen hun hartje ophalen in ons meest romantische lentethema.
Wentel jezelf in een gevoel van luxe en luister naar de poëzie die iedere roos in dit kleurenfestival te vertellen heeft. Heldere, gewaagde kleuren en pastelkleuren vinden elkaar terug in een perfecte symbiose van design en ontwerp.
Glazen of metalen vazen doen met een enkel accent de creaties helemaal tot leven komen. Minimalistisch gebruik van andere accessoires zorgt voor een diepere connectie met de natuurlijke producten.
ROSY // RADIANCE is een romantisch en vrouwelijk thema dat harten sneller zal doen slaan, maar ook de nodige verwondering zal opleveren. Alsof Alice in Wonderland een kleurrijke zomerwandeling zou maken doorheen een bloemenveld in Zuid-Frankrijk. Hemels!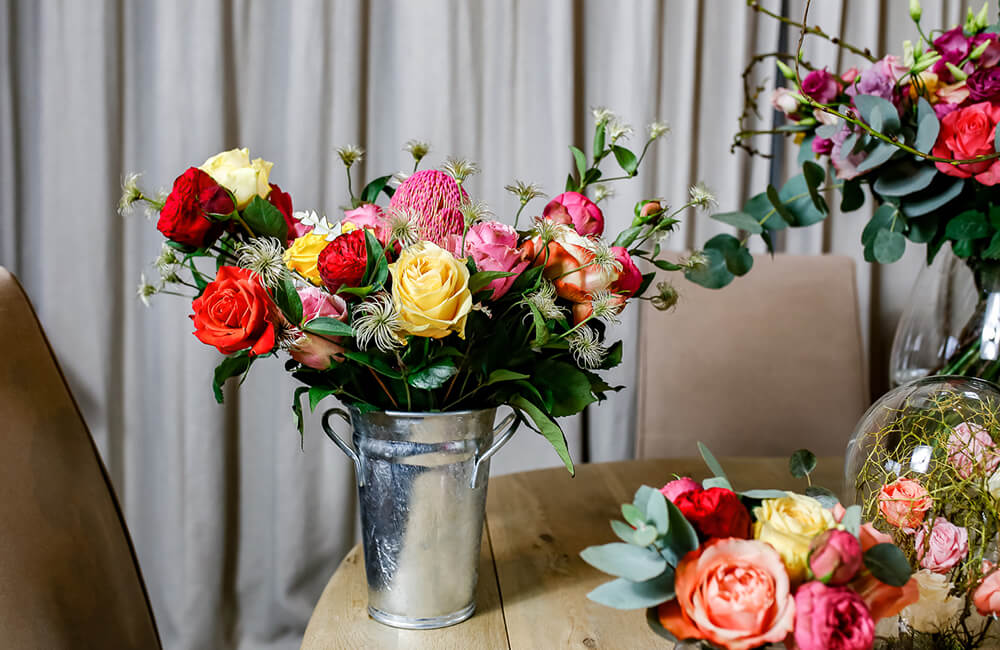 Een heus regenboogboeket of aan de slag met slechts een paar van onze basiskleuren. Je hebt volledige artistieke vrijheid.
Pasen komt eraan, dus voeg voor de afwerking nog enkele eieren aan het schouwspel toe.
Zowel verse als gevriesdroogde bloemen kunnen gebruikt worden om dit thema in te kleuren.
Een schouwspel van kleuren dat zich manifesteert uit een natuurlijke bloemenpracht.
We laten de kleipotten achterwege en kiezen voluit voor glazen vazen en metallic gekleurde potten.
Rozen zijn rood, viooltjes zijn blauw. Met onze voorbeelden schud je moeiteloos schitterende creaties uit je mouw.
Met onze ROSY // RADIANCE creaties tover je je huiskamer moeiteloos om tot een mini-wonderland.
Een minimum aan accessoires levert een maximum aan uitstraling op. Minder is hier overduidelijk meer.
Gebruik voor extra contrast een wit- of pastelkleurige stof als onderlegger, strak aangespannen of majestueus rond de voet van de pot gedrapeerd. Dit zorgt voor een terugkerend effect en bevordert tegelijk de dynamiek van de compositie en het samenspel van de overige kleuren.
Heldere tinten en pastelkleuren zijn de Hartenkoning en Hartenkoningin van dit thema.