Wedding season at Agora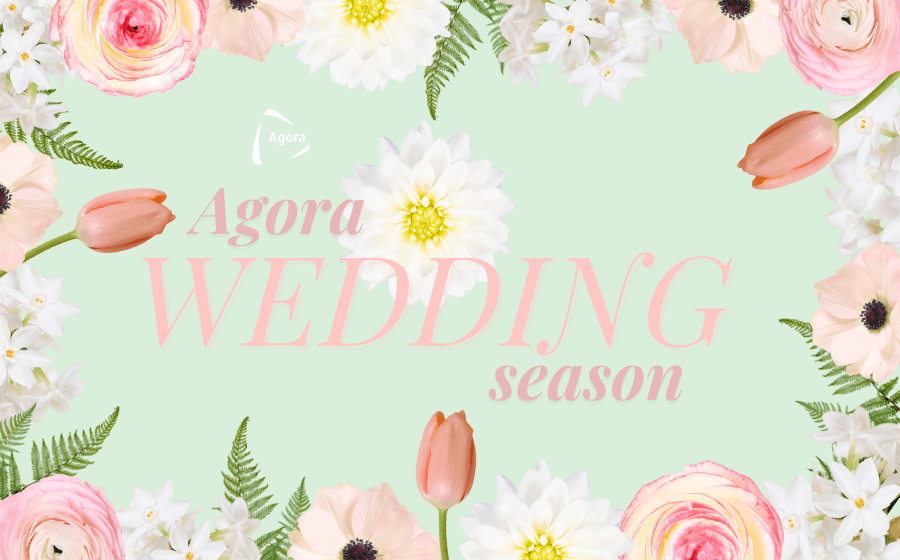 With Agora, you make every wedding one to remember!
Two people vowing their eternal love to each other is always a very special moment. It starts with the big question being asked, to effectively saying "I do" and arranging the wedding party afterwards. Flowers and accessories are, of course, indispensable attributes throughout any memorable wedding story. They function as re-occuring elements that help the couple set the right tone. An elegant bridal bouquet, a stylish corsage, decorative elements for the ceremony and reception, and the decoration for the banquet and further styling of the party location – flowers are everywhere.
Our high-quality flower creations and accessories are the ideal eye-catcher to brighten everyone's big day. If "will you marry me?" is the question, our creations offer a resounding "yes!" for an answer.
Sleek and elegant, or rather wild and free? This year, our selection of creative wedding compositions consists of pastel colors on the one hand and bright colors on the other. Do you have other creative approaches in store for the happy couple? The final flower selection remains completely customizable to the theme the bride and groom prefer, so feel free to experiment with our products!
This fresh bouquet is dominated by soft pastel colors, starring salmon pink gerberas and white gypsophila. As a subtle addition, a few soft-yellow roses are hidden in the depth of the rich ensemble.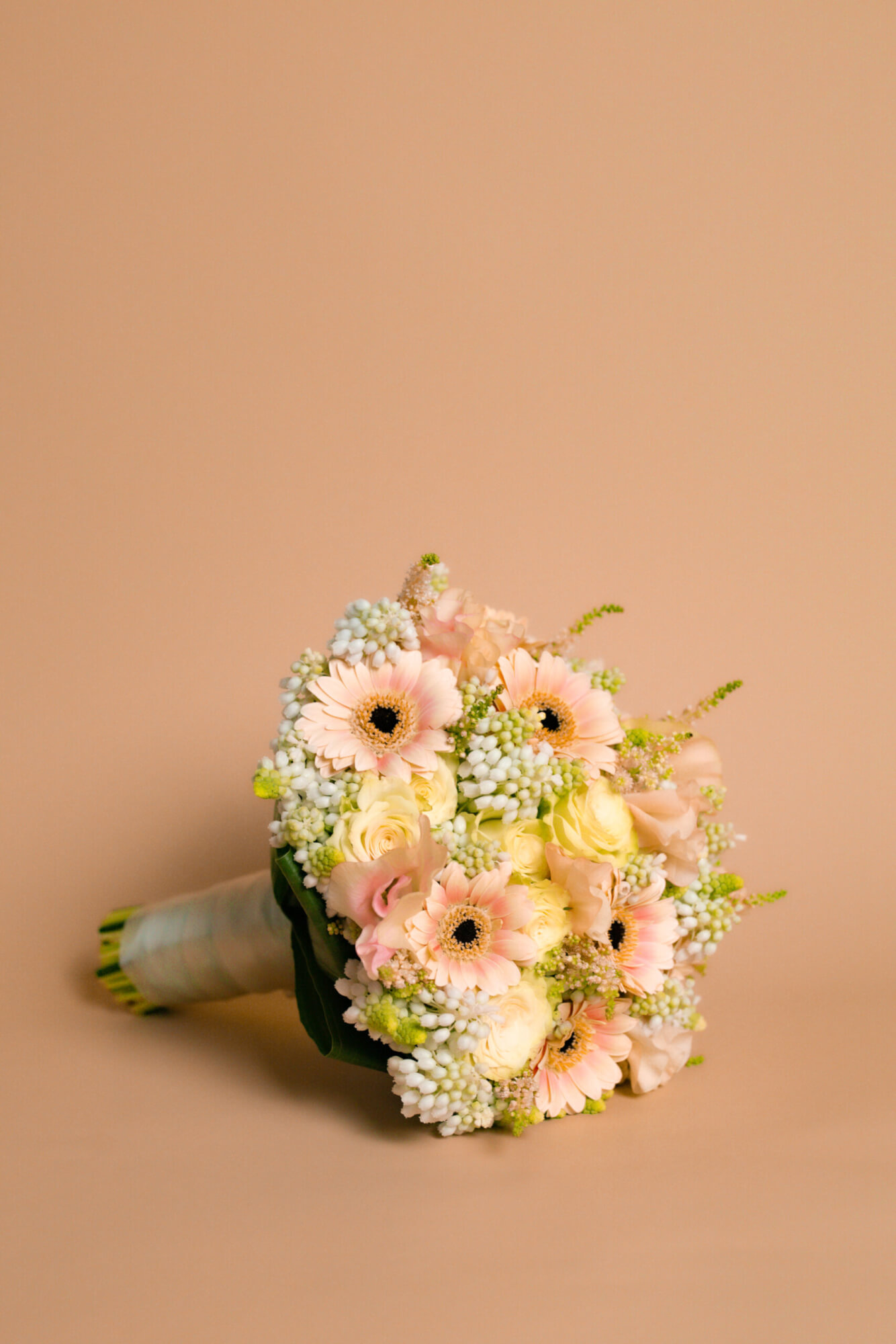 A burst of colors creates an appropriate scene for the adventure of the wedding day. An interplay of fresh flowers carries this visual spectacle of color. Roses in bright pink provide an uplifting feeling in this bouquet and are interspersed with purple Centaurea, also called cornflower.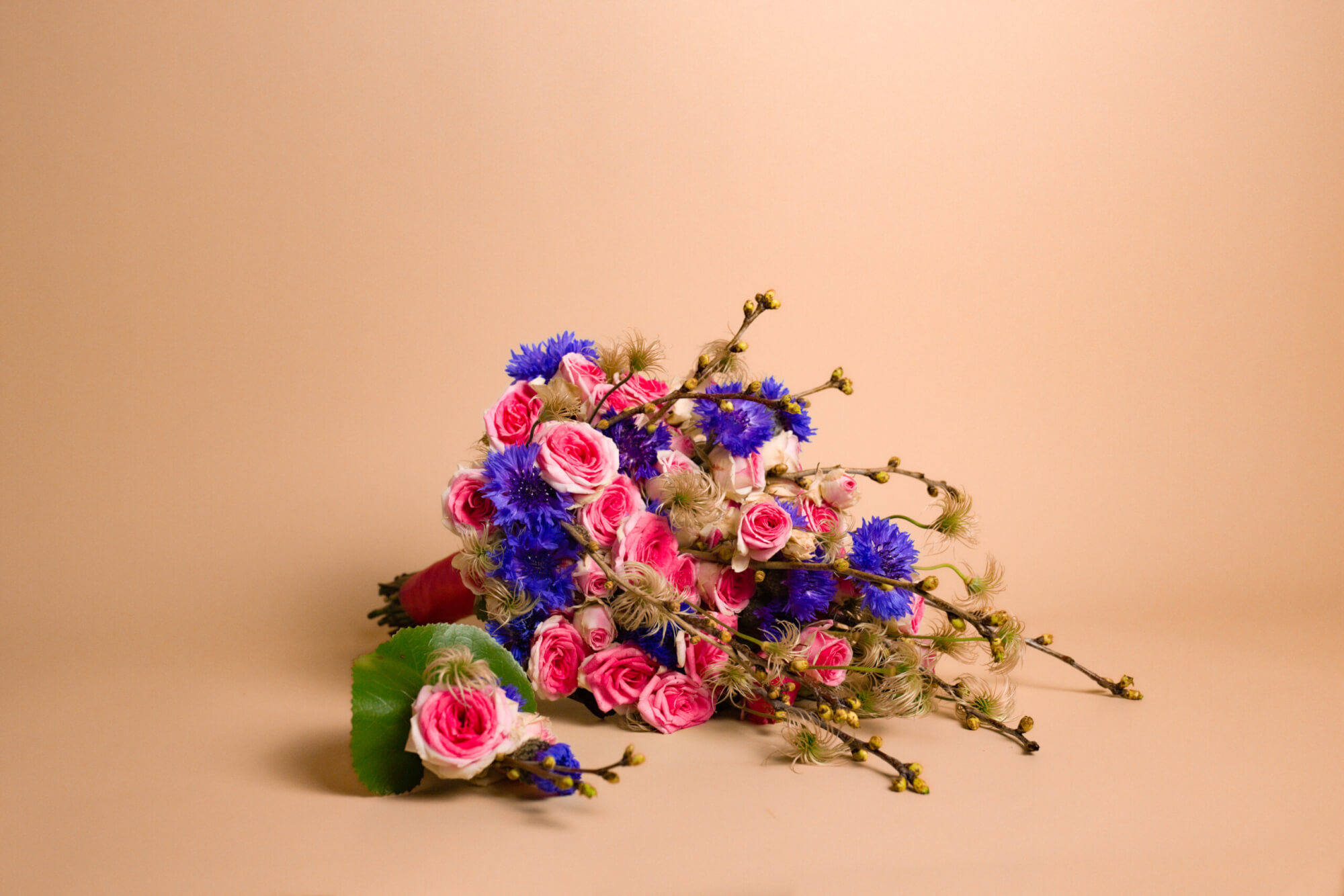 Wild – wilder – wildest! Immediately set the tone for an unforgettable day with this lucious bouquet in pastel shades. Soft shades of purple and pink are broken by bold greens that bring the creation to life. A voluminous bridal bouquet that is sure to capture the attention of every guest.
Finding perfection in simplicity is always the key to making an impression. This definitely applies with this beautiful bridal bouquet that strikes a balance between fresh arum lilies and dried pampas grasses. Fresh and subtle hues of greenery rise to the surface from beneath the lavish, white foliage. A simplistic style that perfectly lends itself to further brighten an already unforgettable day.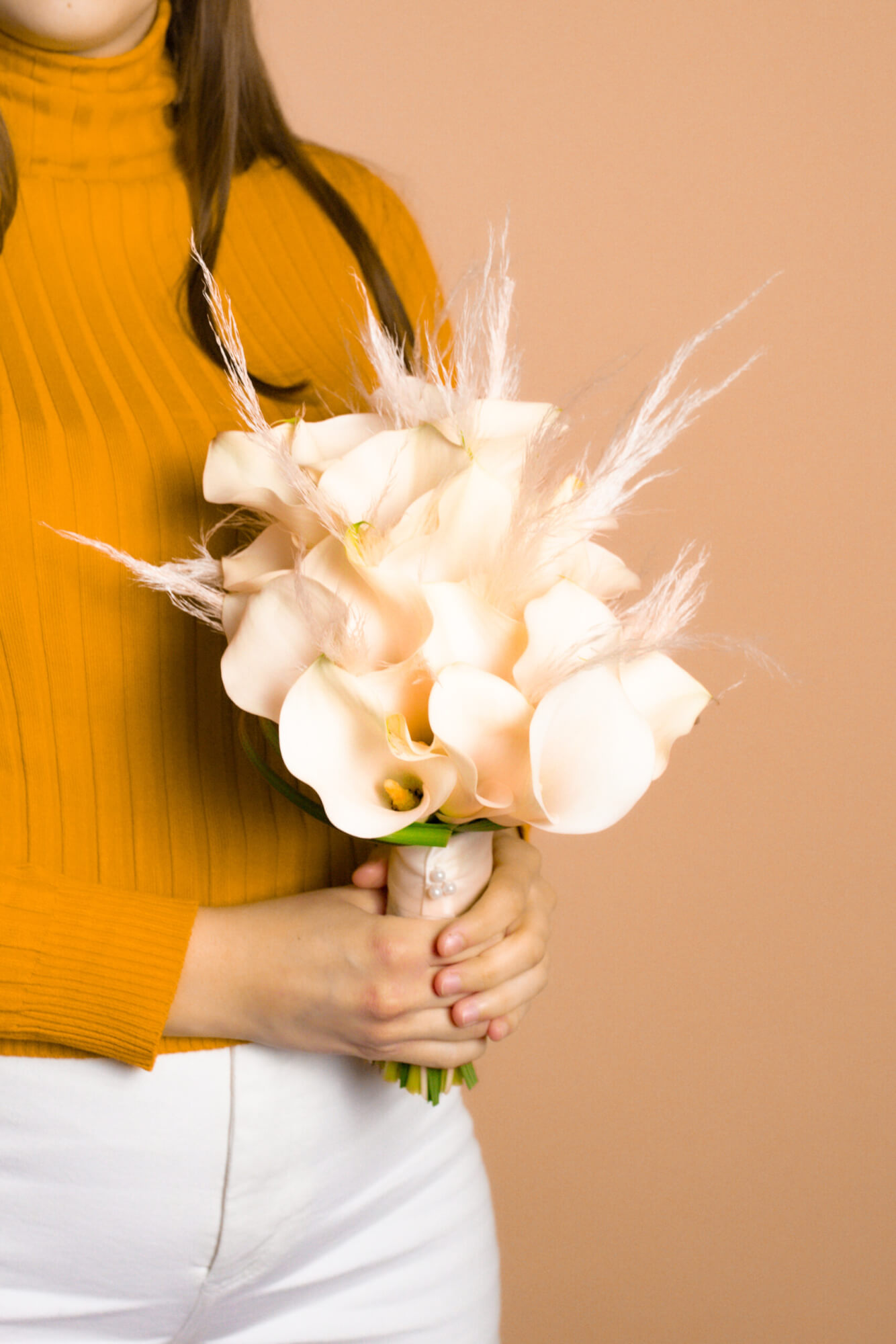 The clothes make the man, and the flowers make the wedding. The perfect suit or wedding dress is finished off with a matching brooch in the theme of the chosen bouquet.
Let your creativity run wild when assembling your wedding creations. Use variation in the products you select and let your expert eye bring them to an aesthetic and visual peak!
Our team of professionals is ready to assist you every step of the way – from when you make your purchase to helping you find some additional creative inspiration. Agora always provides you with the best products to create beautiful and unforgettable memories for your clients.