About Agora Group
Internationally, Agora is known for its quality: daily supplies of fresh cut flowers, a wide selection of indoor and outdoor plants, basic supplies as well as the latest trends in decoration.
At Agora we're dedicated to our clients.
Opening hours of our Cash & Carry facilities are flexible, and we organize regular promotions, provide product information, share practical ideas and organize open days.
Our commitment, both to customers and employees, is vast. We're a family business with close communication with our team. Every part of the chain in the company is important and all employees focus on serving the client in the best possible way.
Wholesale flowers
Wholesaler for daily fresh flowers, domestic and exotic flowers and plants, arranged by colour and size.
Wholesale plants
Our Cash & Carries have a very wide and up-to-date selection of beautiful green and flowering plants, for both terraces and gardens.
Wholesale accessories
We supply the latest trends in glassware, baskets, ceramics and decorative products as well as the basic materials you require.
Agora history
Agora was founded by Marc and Gerd Van Turnhout-Nagels. Agora became a wholesaler in 1981 thanks to the efforts of the family and with the help of its dynamic staff. Agora has a solid reputation as a wholesaler, both in Belgium and abroad.
Our own team of purchasers guarantees impeccable quality and freshness. They pride themselves on offering the best possible quality and a professional service based on their product expertise. All the products are carefully checked before sale.
Today the group is in the capable hands of Marc and Gerd's four children, Ellen, Katrin, Jolien and Nick Van Turnhout, who are just as passionate and enthusiastic about the business.
Work at Agora Group
As a family-owned company, which attaches great importance to its customers, we rely on enthusiastic and flexible employees. Our company's success is founded on people first and foremost.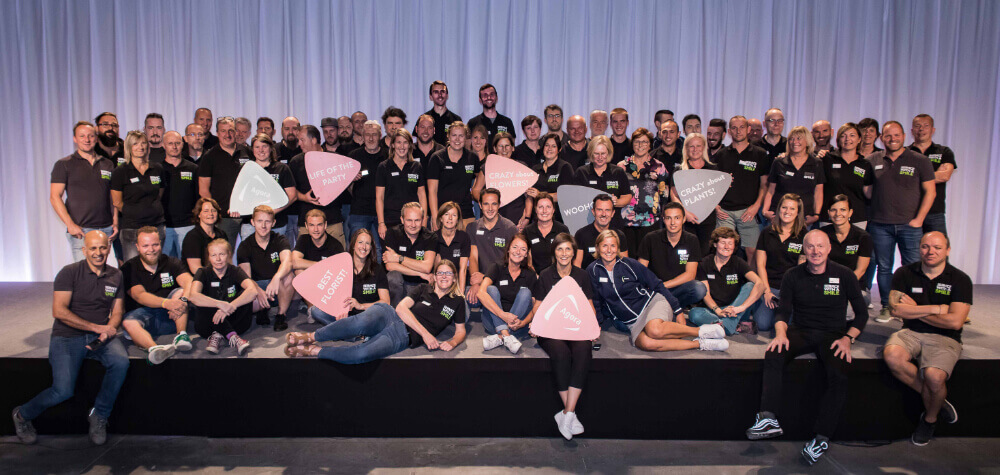 Professional Equality
Agora Group is committed to gender equality and reducing discrimination in the workplace, resulting in a high score on the index.