2021 is a special year for the entire Agora family. This year, we are honored to be celebrating 40 years of engaging and sharing with you our passion for flowers, plants and accessories.
The golden 80's are back again.
It's party time, as Agora Kontich is born. Lilies and orchids are dancing with each other on a golden dance floor. They enter the space with their partners, the birds of paradise and ferns. The dance party is accompanied by shades of yellow and pink, with accents of red and orange. Every element participates lustily – you won't encounter a wallflower during this party.
A gorgeous palm doesn't want to be left behind.
Decked out in a large gray-tinted pot with an embossed horizontal stripe pattern, it makes a grand entrance. With a subtle and minimalist wooden base, it shows its best side in any room. His presence can no longer be ignored.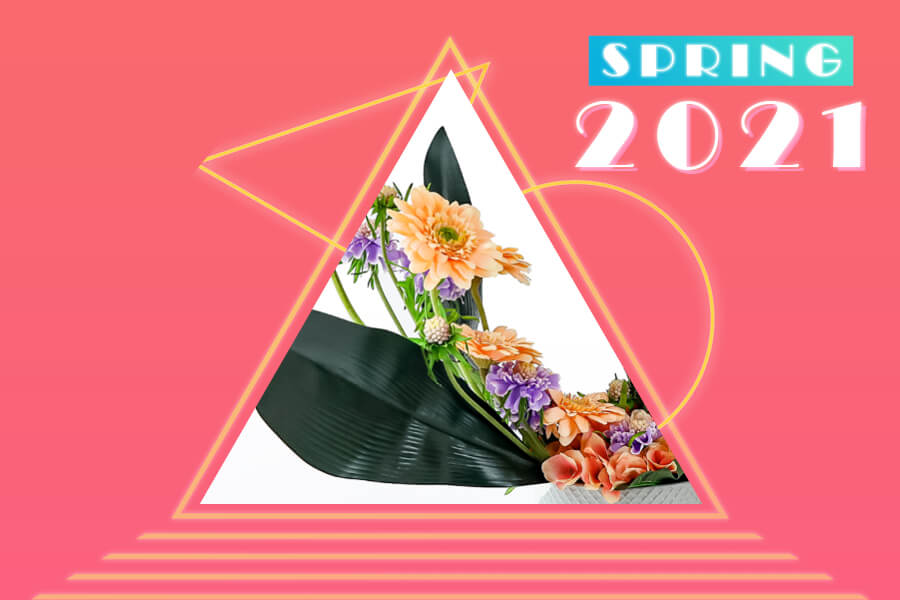 Resting on a green bed of ferns, a quartet of colors challenges its surroundings.
A couple of bulbous Cynaras are still sleeping while the scabiosas and orchids are already starting their day. Along at the breakfast table we find a stylish white pot in checkered relief pattern. Ready for a flying start.
White-colored orchids with purple accents spring from an oasis of greenery, all ready for the entrance of Agora Carvin.
They smile at their onlookers from a bulbous glass vase. The shades of color between them are inhibited and simplistic. The beauty of this creation lies in its simplicity.
Romance comes to life in this rollercoaster of red, pink, orange and purple hues.
In this composition, colored roses are overwhelmingly in charge. A few liatrises and ferns overshadow the whole from the background. Agora Rouen can be opened. A light-colored pot as a base on a pale background creates the illusion of a colorful aerial ballet. Rosy Airlines & Agora Rouen, is ready for take-off!
Wondrous white paired with divine green, a heavenly combination.
A bouquet on the verge of breaking through, tempered only by its own limits. Snow-white daisies and frosted white roses are leaping into the foreground while green ferns take up the background work. The futuristic checkerboard pattern on the dark-colored vase gives the creation a luxurious look.
Shine is always done in the presence of others.
A home base of glass crystal reflects the light that directs the red roses, green moluccella plants and rosy feathers in the right direction. The green sea on which this creation rests forms a natural buffer between the colors.
A graceful silhouette of lilac-colored orchids makes its way out of a narrow, copper-colored bottle neck.
The purple undertone in the extravagant glass vase echoes the beauty of the flowers. Accents of greens and a single fuschia banksia keep the balance.
Being crazy doesn't hurt and hiking is always more fun with two than alone.
That's also what these two mini pineapples thought as they made their way through a base of ferns and reeds. A uniquely textured pot assures our happy duo of a smooth passage past every obstacle in their path.
A wild path through the mountains reveals its secrets.
Accents of dried grass and wild grains tower high above the landscape. At the base of the valley, a single spherical banksia in a glass globe vase is central to this concept. Dare to take the plunge and discover your own wild side, you are ready.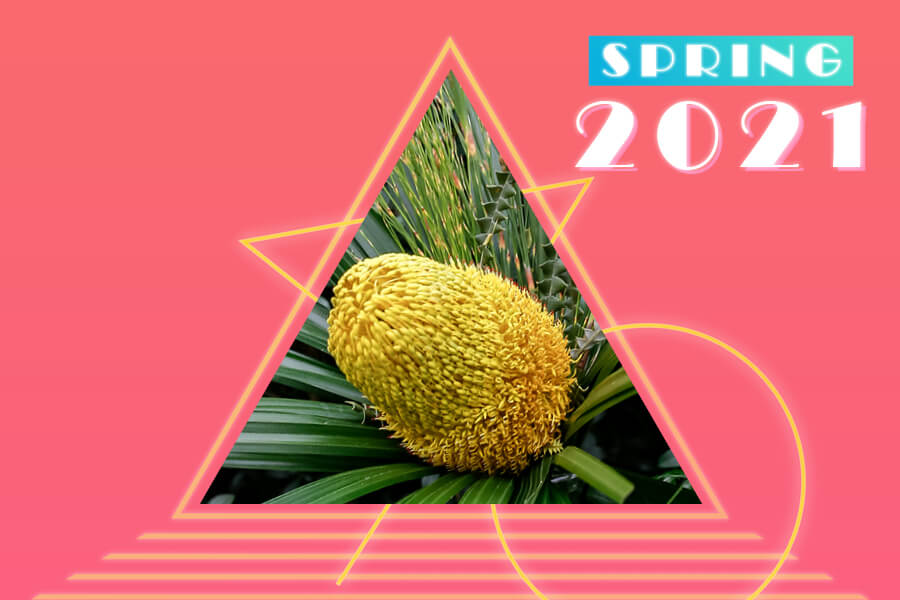 With quality products and our dedicated staff's services, we look ahead to the future and will continue our devoted services to changes within our industry. That is what Agora stood for the past 40 years and will continue to live up to for the next 40.
We thank our customers, team, partners and growers for joining us in making each season a time of celebration once again. Without further ado, we would like to introduce our five themes of spring.
With warm spring greetings,
Your team at Agora